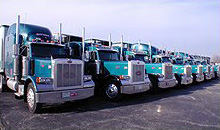 Our fleet is comprised of company-owned equipment and permanent-leased owner operators. We operate the latest technology equipment to insure that we are the most efficient in handling any of your shipments. All of our equipment is air ride with all trailers being high cube refrigerated for temperature sensitive shipments.
Our experienced logistics personnel can handle your next shipment anywhere throughout the continental United States. Refrigerated, dry, or expedited truckload or LTL, we have the knowledge and experience to do it right so you don't have to worry. If we can't provide the service on our own equipment, our team of qualified carriers will insure that your shipment is delivered in a seamless, on-time and professional manner.
Our company consistently achieves a "SATISFACTORY" rating from the U.S. Department of Transportation on the Safety Fitness and organization of Saturn Freight Systems. We are also registered yearly with the US Food and Drug Administration #13126811694 for the United States Public Health Security and Bioterrorism Preparedness and Response Act of 2002.
Give us a call at
1-800-323-0481
for that

"Peace of Mind"

service you deserve.

| | | | |
| --- | --- | --- | --- |
| Logistics Manager - Company Fleet | Bill Stoltz | Ext 710 | This email address is being protected from spambots. You need JavaScript enabled to view it. |
| Logistics Coordinator - Company Fleet | Nick Zouvas | Ext 701 | This email address is being protected from spambots. You need JavaScript enabled to view it. |
| Logistics Coordinator - Company Fleet | Rico Benavides | Ext 701 | This email address is being protected from spambots. You need JavaScript enabled to view it. |
| | | | |
| Logistics Manager - Brokerage | Mike Holland | Ext 709 | This email address is being protected from spambots. You need JavaScript enabled to view it. |
| Logistics Coordinator | Ben Majerczyk | Ext 701 | This email address is being protected from spambots. You need JavaScript enabled to view it. |
| Logistics Coordinator | Jeremy Dumelle | Ext 703 | This email address is being protected from spambots. You need JavaScript enabled to view it. |
| Logistics Coordinator | Nick Strach | Ext 706 | This email address is being protected from spambots. You need JavaScript enabled to view it. |
| Logistics Coordinator | Terry Repp | Ext 701 | This email address is being protected from spambots. You need JavaScript enabled to view it. |
| | | | |
| | | | |
| | | | |
| Billing / Tracing / Carrier Payables | Dan Wilkinson | Ext 708 | This email address is being protected from spambots. You need JavaScript enabled to view it. |
| Billing / Tracing / Carrier Payables | Colleen Syron | Ext 533 | This email address is being protected from spambots. You need JavaScript enabled to view it. |
| | | | |